CRUISE 12 dagen Specerijenroute Ternate-Banda-Ambon -
Cruise Ternate-Seram-Banda-Ambon of vice versa
Een heerlijke 12-daagse cruise langs verrassende culturen, exotische flora en fauna op een originele Buginese schoener. U vaart van Ternate via de Banda eilanden naar Ambon of andersom. De reis wordt begeleid door een maritiem expert met veel kennis van de lokale cultuur.
Aan boord van de Ombak Putih beschkt u over een luxe 2-persoons hut met AC en prive badkamer.Laat u verwennen en verrassen!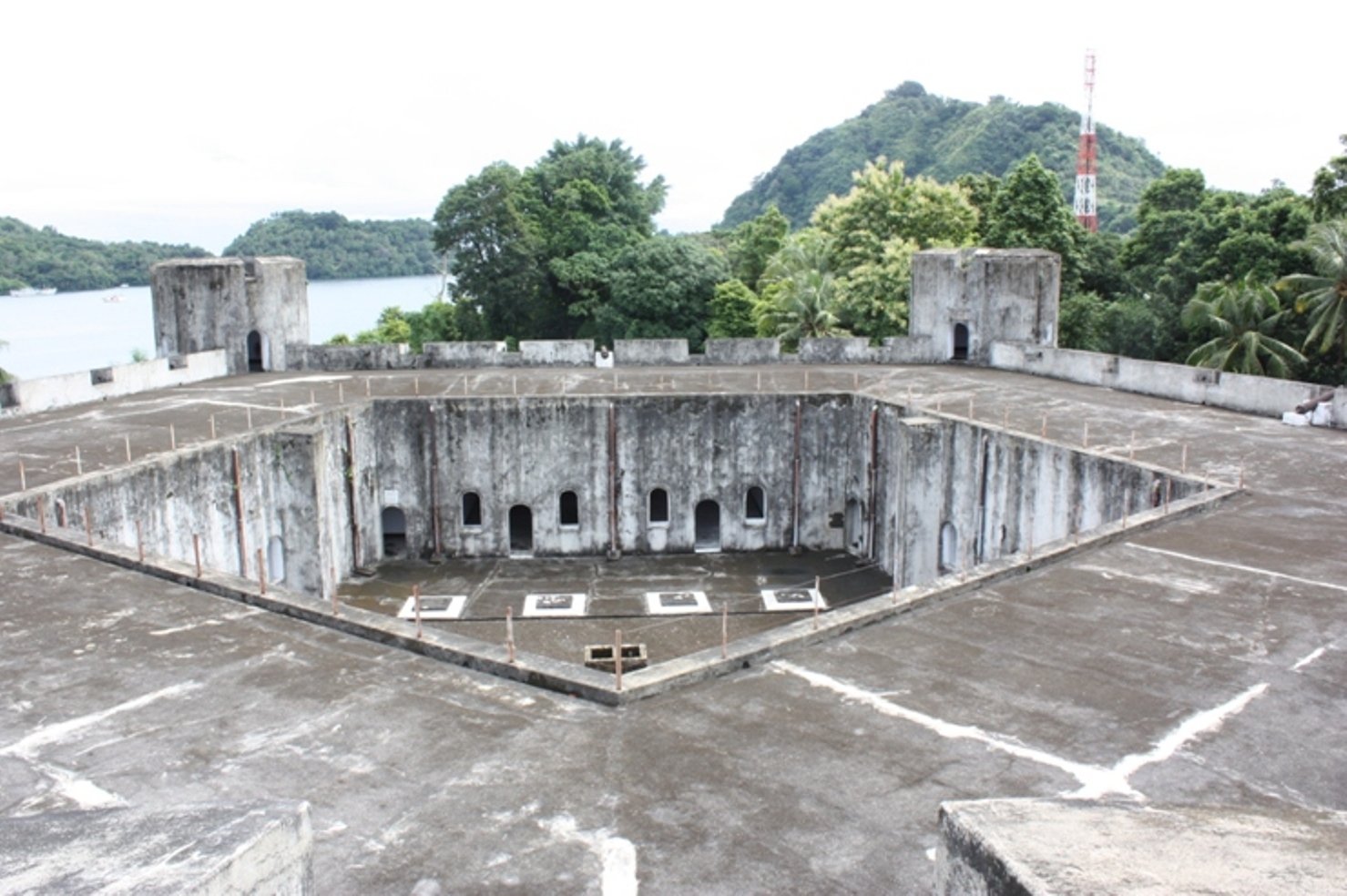 Vertrekdata
01-10-2018 Ternate-Ambon
16-09-2019 Ambon-Ternate
15-09-2020 Ambon-Ternate
30-09-2020 Ternate-Ambon

Restbetaling 3 maanden voor vertrek
Prijsoverzicht
Price overview
CRUISE 12 dagen Specerijenroute Ternate-Banda-Ambon
2 personen (1 x 2-persoonskamer)
01-09-2020 - 11-09-2020
€ 6604.00 p.p per arrangement
1 persoon (1 x 1-persoonskamer)
10-04-2020 - 31-08-2020
€ 11586.00 p.p per arrangement
01-09-2020 - 31-12-2020
€ 11748.00 p.p per arrangement
Route
Route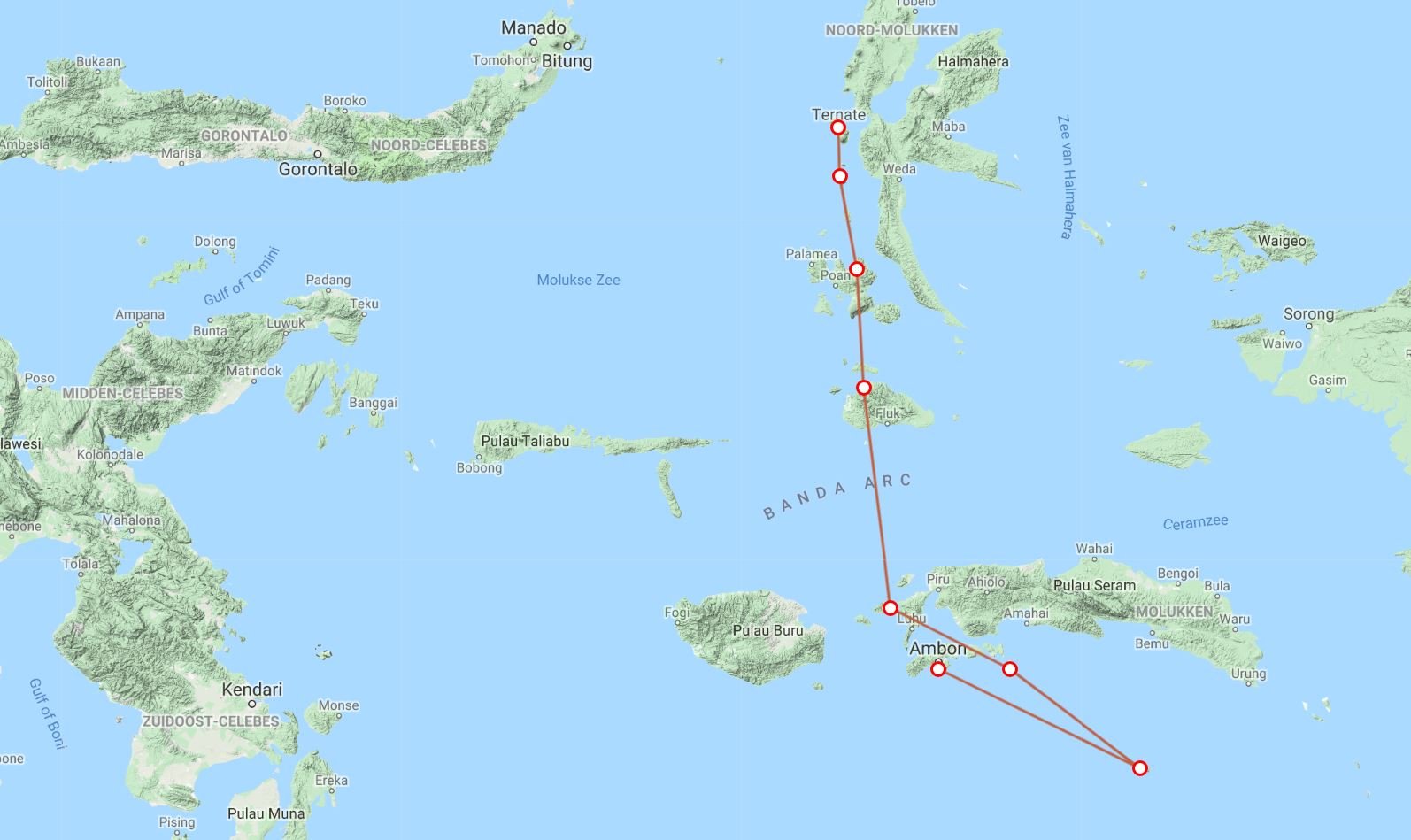 Programma
Dag 1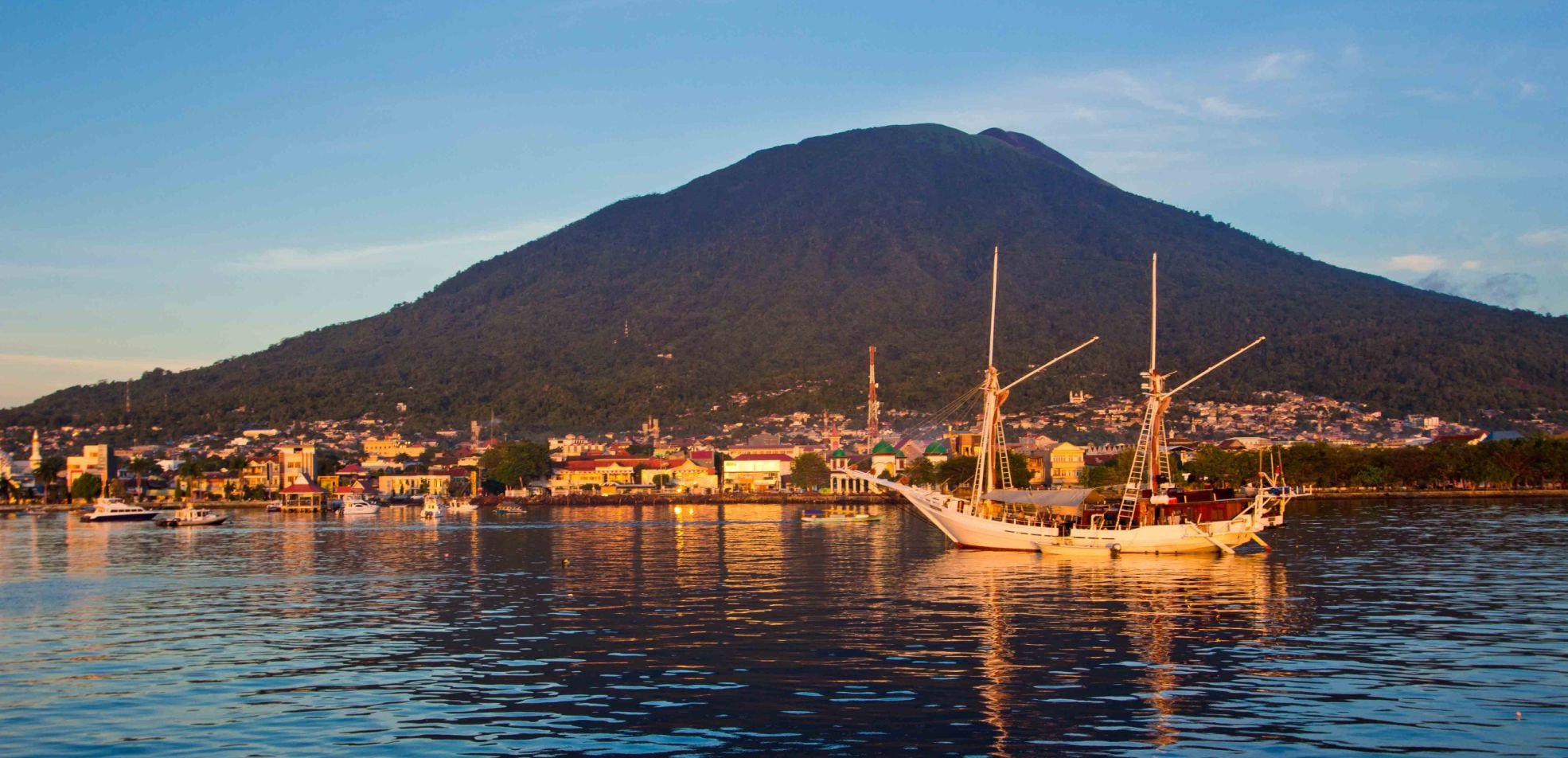 You'll be met at the airport and escorted to our handsome ship Ombak Putih at anchor off Ternate's mighty volcanic cone, Mt Gamalama (1715 metres). You'll settle in, meet other passengers and crew, and then we'll enjoy our first al-fresco lunch beneath the awnings. The tour director and dive master will brief you on our programmes, equipment and safety. Then we go ashore to Ternate, one of four historically powerful Moluccan spice sultanates. Its warehouses are still filled with fragrant piles of clove and nutmeg. Nearby is the splendid 17th century, pagoda-style royal mosque, and the Sultan's Palace with its rich collection of heirlooms. There's a choice of forts to visit, introducing the turbulent colonial era, such as well-restored Fort Tolukko (Portuguese, 1540). Back on board the boat we will have sunset drinks on the top deck before we dine al fresco at anchor, ready for our adventures ahead
Dag 2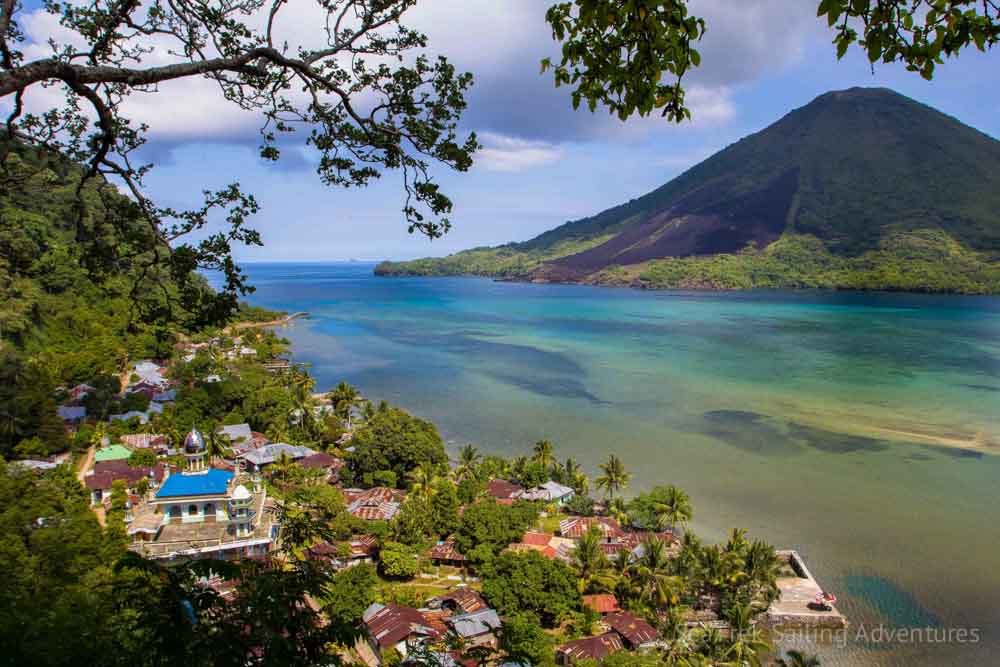 Today we will wake up just across from Ternate off the coast of Halmahera, with the mighty peaks of Ternate and Tidore as our dawn backdrop, ready to head ashore to the village of Dodinga after breakfast. This is the very place where Alfred Russel Wallace was staying when, in a fit of malarial delerium, he came up with the idea for the mechanism for evolutionary theory. He promptly wrote to Charles Darwin when he recovered and set in motion the formalization of the theory of Evolution by Natural Selection. Dodinga is a pretty little riverside village with friendly people, colourful houses and the ruins of an old Portuguese fort, and its importance in the history of science icannot be understated. After spending some time with the villagers,sharing some fresh coconuts and enjoying thier hospitality, we will head back to the boat for lunch and then go off for an afternoon of snorkelling and relaxation.
Dag 3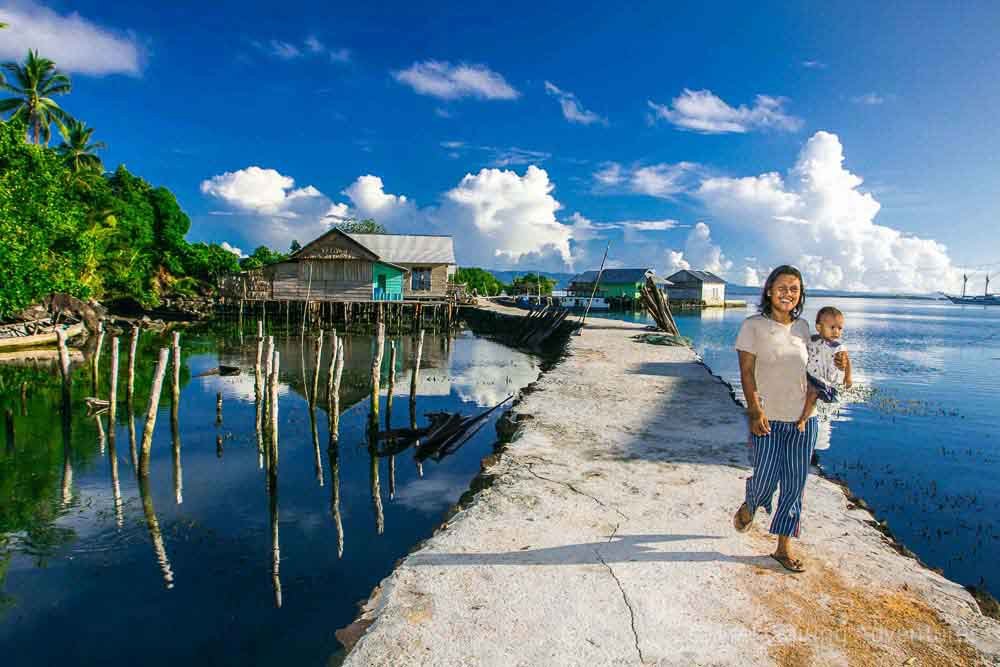 Sunrise finds us in Indonesia's most stunning seascape. Four perfect, brilliant-green volcanic-cone islands emerge from the sea in a straight line stretching south to north, parallel to the rugged, forested spine of the big island called Halmahera. They are Makian, Moti, Tidore and Ternate. Makian is dominated by volcanic Mount Kiebesi (1357 metres) towering over its palm-fringed, white-sand beaches and crystal clear waters. There are interesting expeditions ashore and good places to snorkel. Later we cruise towards Payahe Bay on the mainland of Halmahera, which was another of the Spice Sultanates, formerly called Gilolo. Our landfall is a remote beach full of outrigger fishing craft, for an easy afternoon trek towards a forest waterfall. Tonight we cross the Equator.
Dag 4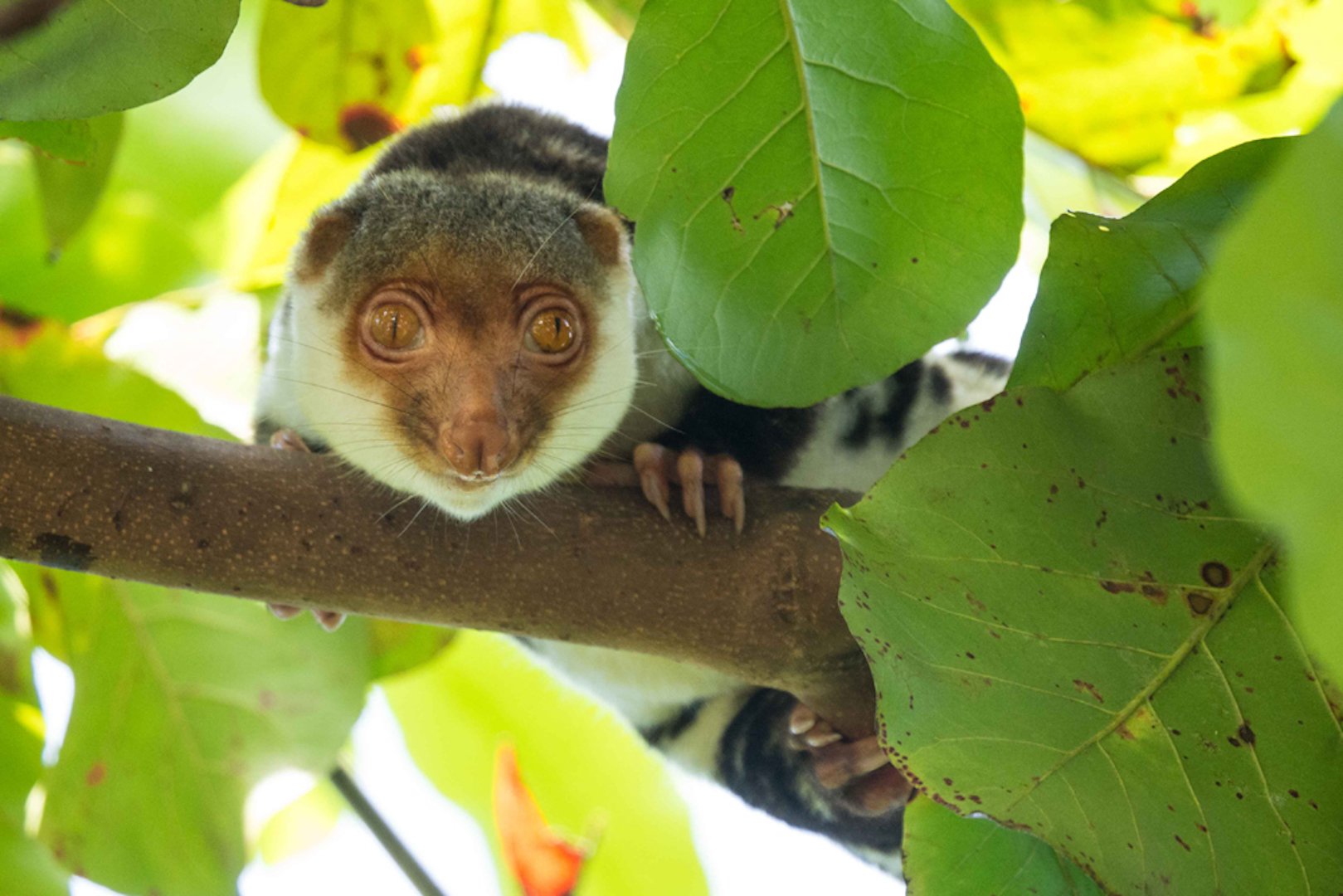 Our first Southern Hemisphere anchorage is off the north shore of Bacan, another seat of Indonesia's historic spice sultanates.We go exploring ashore at the isolated village of Geti or its neighbour Goro-Goro, walking up a rainforest-clad river valley. Bacan is where Alfred Russel Wallace discovered the golden birdwing butterfly and the giant mason bee, Chalicodoma pluto. We'll keep a close watch for these and a host of species, some of them endemic, including parrots, cockatoos, lorikeets, hornbills, the elusive cuscus or a rare black macaque – the only monkey in Maluku. It's the wrong side of the Wallace Line for monkeys; these ones were introduced from North Sulawesi.
Dag 5
By today you will have lost track of time and place, but your crew won't have. They will have delivered you on schedule to the Patinti Strait and Doworalamo, where we visit a village of the famous sea gypsies, known in Eastern Indonesia as Sama-Bajo. Scattered widely through South-East Asia, sea gypsies spent their entire lives from birth to death on their small sailboats called lipa-lipa. Now the modern world has pushed them ashore. Landless, their homes are always built on stilts over coral reefs or the tidal margins of remote islands such as this one. We will also have opportunities for swimming, snorkelling and beach-combing before our ship takes a southerly course on an overnight passage across the Ceram Sea.
Dag 6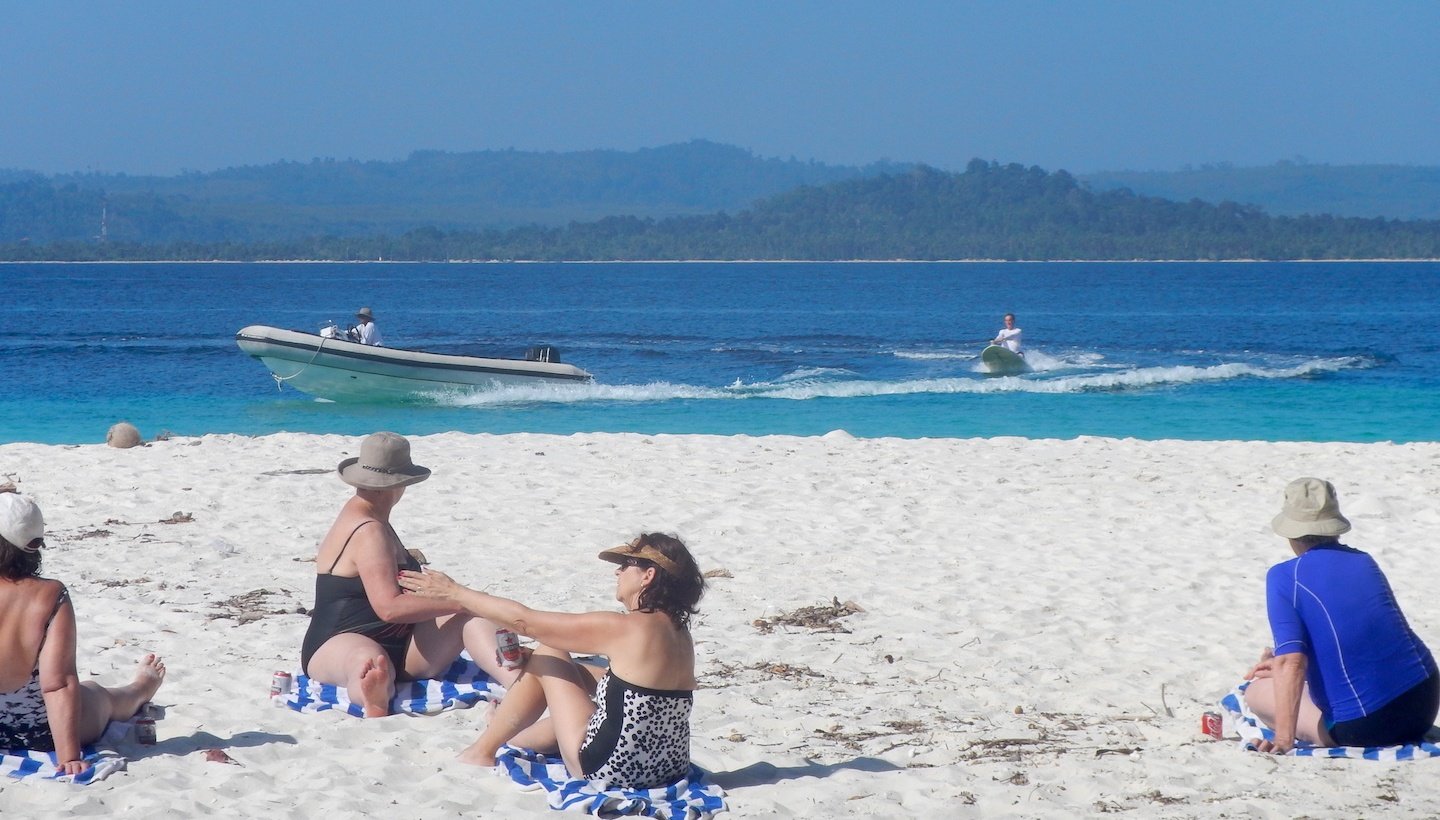 Deserted, white-sand Belang-Belang is a real beachcomber's paradise, where we can launch our full flotilla of watercraft, kayaks and paddle boards. At Obi Latu, mountains clad in forest and clove plantations plunge spectacularly into the sea. We will visit isolated Manatahan, a village of migrant Butungese from Sulawesi hundreds of miles to the west. Migration is not unusual in this island world where people are accustomed to moving by boat, and islands are sparsely populated or uninhabited. In past times the picturesque channels around Obi were dotted with the sails of local spice traders, Portuguese caravels, Spanish galleons, Dutch jachts and English pinnaces. Now we encounter friendly fishers and their outrigger dugouts, colourful timber island-trading craft and sometimes little lambo sloops still trading under sail.
Dag 7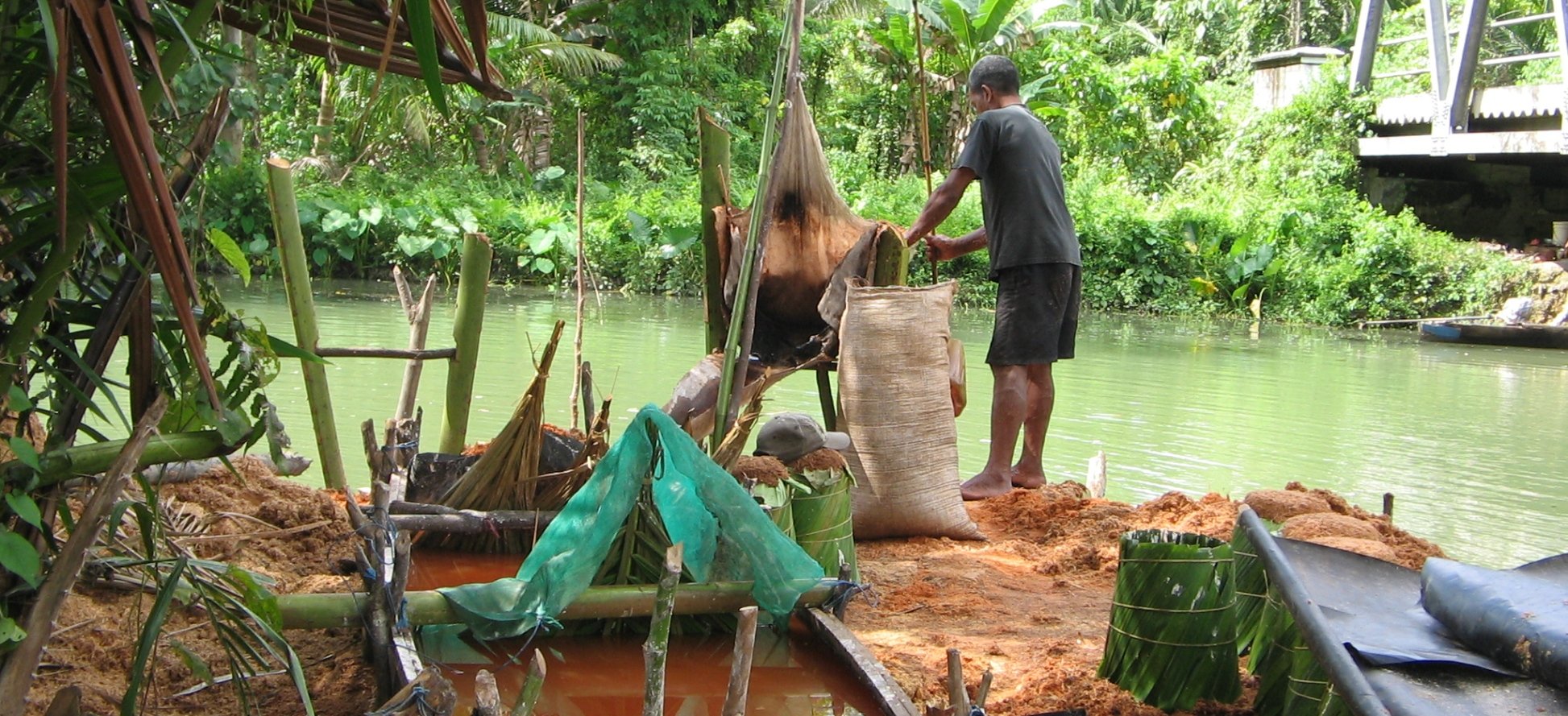 Manipa Island is said to have magical powers, because none of the Portuguese, Dutch or WW2-Japanese who occupied the surrounding islands ever landed here.The spell doesn't apply to Indonesian ships, so we land at Uwe township for lessons in village technology. Its gardens produce cashews, while the leaves of forest Melaleuca cajuputi are pot-distilled to make a volatile oil called kayu putihor cajeput. It's famed throughout Indonesia as a universal panacea: cosmetic, antiseptic, insecticide, decongestant, analgesic, expectorant, anti-spasmodic, stimulant and tonic! We also view production of the traditional Moluccan food staple, sago, a nutritious flour washed from the fibrous trunk of the cycad-like sago palm. Sago can be baked into easily transportable cakes, while the palm also provides building timber and thatch. After an afternoon snorkelling, we will cruise on towards the Lease group (pronounced 'Lay-ah-say').
Dag 8

On Saparua we land beside Dutch Fort Duurstede (1691), stormed in 1817 in a revolt led by Ambonese Kapitan Pattimura, a national hero and martyr. His story is told by vivid museum dioramas. Brightly painted bemo mini-buses will take us to a morning market before we sail to nearby Nusalaut. Rarely visited by outsiders, this island is home to a Christian community after early missionaries planted their faith here at the same time that Islam was spreading through the archipelago. We will visit the Eben-Haezer church founded in 1719. Nearby is the restored Dutch Fort Beverwyck, built from 1657 in a distinctive architectural style we've not yet encountered. A highlight here is a lunchtime feast of wonderful local dishes – freshly prepared by villager hosts from forest, garden and sea produce. It's your once-in-a-lifetime opportunity to try papeda, the most famous and unusual of the many sago dishes.
Dag 9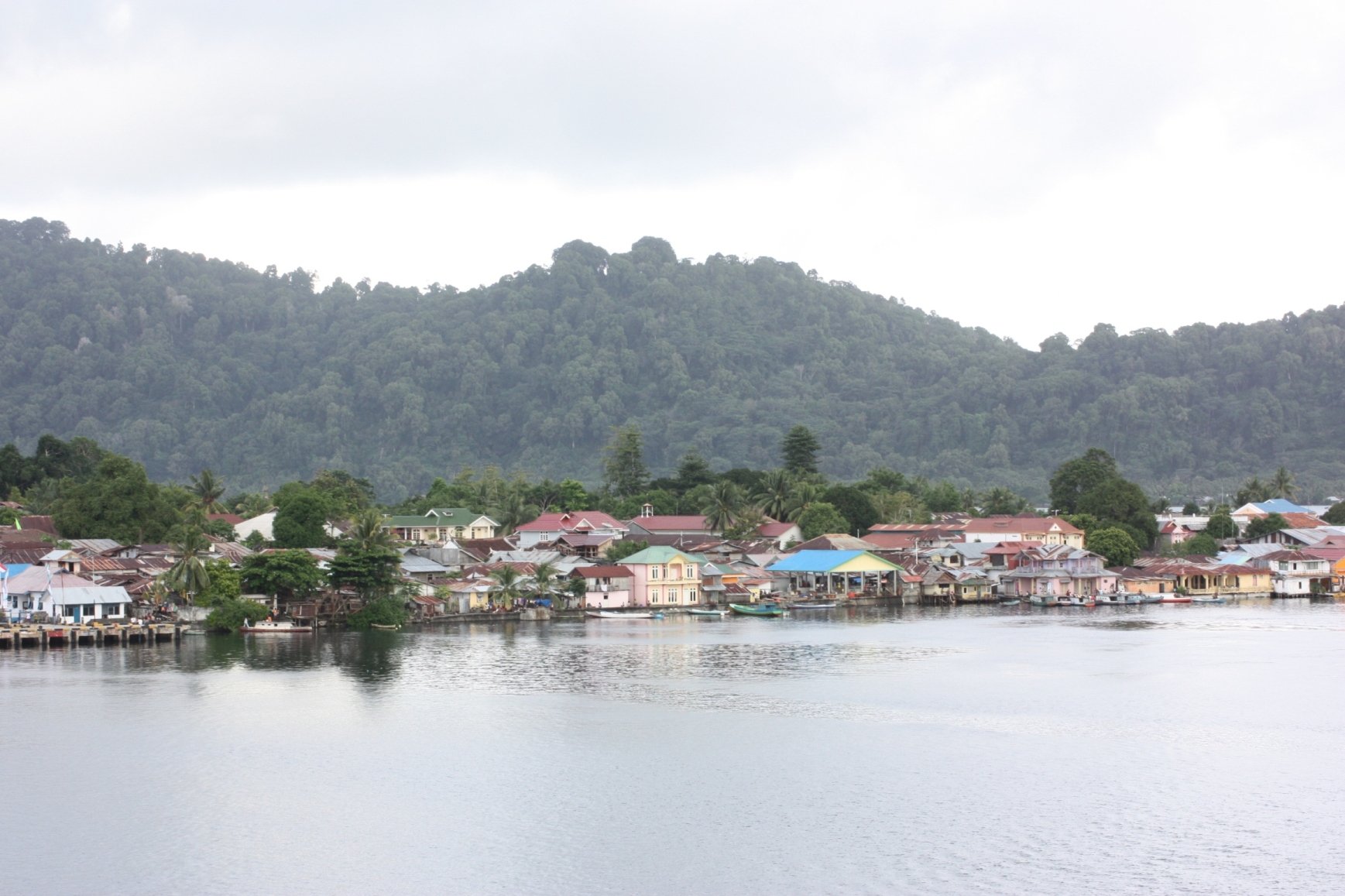 Overnight we have sailed south-east into the Banda Sea, to reach the renowned, remote Banda archipelago. Famous for natural beauty and cultural heritage, and their well-preserved remnants of an extraordinary history of imperialist rivalry, these islands are quite simply one of Indonesia's highlights. Banda was originally the world's only source of nutmeg and mace, valued for their rarity and high cost by aristocrats and elites. Today Banda's quiet and charming ambiance belies a dramatic and often tragic history, including war, massacre, earthquake and eruption. This is a very special destination. Since conditions of wind and tide will determine the order in which we visit various Banda islands, our activities here can't be assigned to a particular day. Here's what we aim to cover. In the capital Bandaneira, on the biggest island, Neira, we land near the elegant arches of Hotel Maulana – a little slice of Somerset Maugham. It's a pleasant stroll through the quaint colonial outpost's characterful streets, inspecting notable residences, a museum, churches and a waterfront market. Brooding over all is the mediaeval-looking Fort Belgica, its five crumbling bastions now solidly rebuilt. The population is a handsome mix of Malay, Arab, Dutch and Melanesian. Just across the harbour is Banda's perfect, jungle-clad volcanic cone Gunung Api ('Fire Mountain' – 640 metres). The fit and ambitious might make an early morning ascent up a challenging track to the top for stunning views. Or we can snorkel over the black lava stream of its last eruption.
Dag 10 en 11

We choose from some of the other small islands of the Banda archipelago – Lonthoir, Ai, Run, Hatta – each of them with its own remnants of old plantations, Dutch cemeteries and fortifications. The tiny outlying island of Run was the subject of an unbelievable real estate deal when in 1667, under the Treaty of Breda, it was ceded by the English to the Dutch in exchange for Manhattan. Yes, the Manhattan where New York stands. On the island of Ai we can visit Fort Revenge, built by the English before being captured by the Dutch. On Lonthoir you can enjoy the tranquil beauty of nutmeg groves, where the shapely fruit-bearing trees grow in the shelter of towering, gigantic kenari or native almond trees. You can observe the age-old technique of harvesting by hand, and can taste (and buy) baked goods, condiments and jams flavoured with fresh mace, nutmeg or their fruit casing. We will climb up to fortress Hollandia and go on to meet the last of the 'perkeniers' – the small-holder farmers who managed the plantations for the Dutch, on land parcels known as 'perken'. You'll learn of more recent wars and eruptions that shook these lovely islands, and value even more their current peace and tranquility. Leaving Banda we will navigate through the Sonnegat ('Sun's gap') between Neira and Gunung Api, escorted by kora-kora – the big Moluccan galleys used traditionally for ceremony and warfare, propelled by banks of warrior-oarsmen. We think you'll agree, as we sail towards our final destination, Ambon, that this small, remote, picturesque island group was the highlight of the trip.
Dag 12

Our final anchorage is Ambon's splendid, sheltered harbour. After breakfast we will take an (optional) short tour of the surrounding area. We will start with a visit to the Commonwealth War Cemetery, where many Allied troops from World war II are buried. We will then head to the north of the island and visit Hitu Lama, the ancient port of the Spice Trade that was in use for centuries before Europeans made it to the Indies. We will visit the market and see a traditional Balieo house. Also on our tour will be the Waipauwe Mosque (1414), the Immanuel Church (1512) and finally to Fort Amsterdam (1514) one of the first European forts built in Maluku. After this we will return to the boat for lunch before heading to the airport for our departure.





Uw verblijf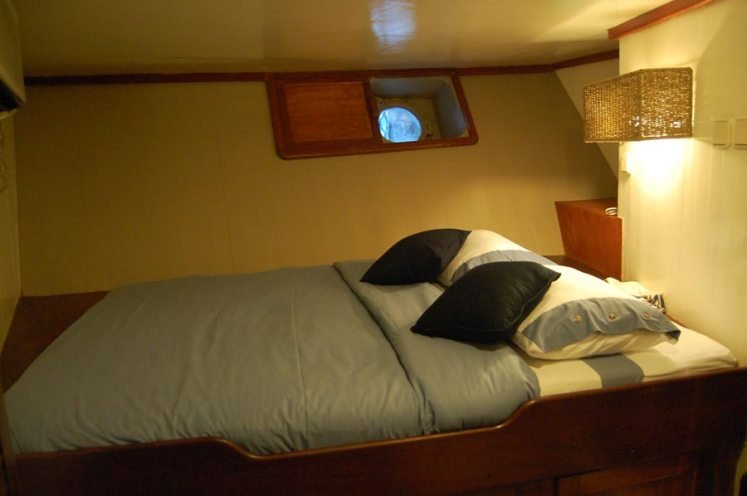 Molukken
De Molukken vormen een groot eilandenrijk met in het noorden Halmahera tot 1.000 km zuidelijker Tanimbar. Ambon is het meest bekende eiland met de ge...
Ternate
Piepklein eilandje, prachtig gelegen in de Noord Molukken. Een van de bekendste specerijen eilanden tijdens de Nederlandse tijd. Nog steeds zijn er v...
Seram
Seram (of Ceram) is het grootste eiland in de zuid Molukken. Het is 17148 km² groot en het hoogste punt is 3027 m. Het dichtbevolkte eiland Ambon ...
Banda eilanden
De Banda-eilanden (Indonesisch: Kepulauan Banda) vormen een groep van tien kleine vulkanische eilanden in de Bandazee en behoren tot de Indonesische e...
Ambon
Ambon, de hoofdstad van de eilanden groep Molukken ligt op het gelijknamige eiland Ambon. Ambon-stad is met afstand het belangrijkste knooppunt van d...